Failed States issue no.4: south
£

15.00
Sold out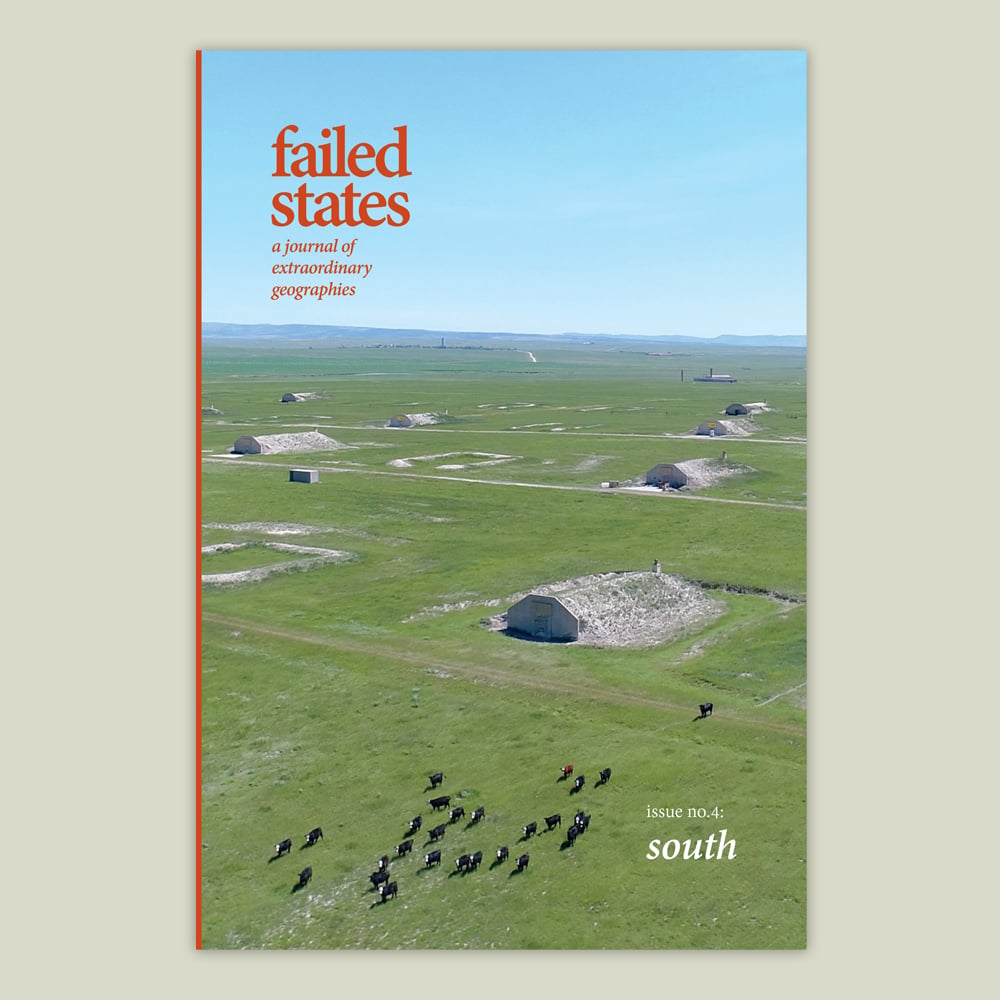 South is relative — a place we simultaneously travel to and from. In this issue, we journey from Cork to Cairo to Chile; Margate to Morocco to the Mississippi Delta; Mount Taranaki to the Rio Grande; to South Dakota, the Sandwich Islands and a South London street called Rainbow.
In the fourth issue of Failed States:
• Altiplano, in which artist Malena Szlam and volcanologist Clive Oppenheimer explore the Atacama Desert.
• Austral Index, in which Pete Segall catalogues a number of souths from SoHo to Yunnan.
• Borderlands, in which Joanna Pocock travels along what would be The Wall on the Mexico-United States border.
• Double False Position, in which Moad Musbahi tells a story of a scholarly Sufi saint braving the waters off the shores of Cape Beddouza.
• Four car ramps, in which Paolo Patelli documents the building of unsanctioned motorway ramps in Ard El Lewa, Cairo.
• Land Remains, in which Jake Silby delves into the mythology, Māori origin stories and colonial history of Mount Taranaki.
• Milton of Vivos, in which Jenny Perlin encounters a man preparing for the apocalypse in a bunker in South Dakota.
• Night Wind Remembers, in which Donal Mosher returns to North Carolina for his father's surgery, confronting illness, aging and celluloid fantasies.
• Portrait of the Artist as a Capitalist Goat, in which Simon Evans™ chronicle life heading south in Brooklyn during lockdown.
• Rollercoasting, in which Frank Watson traverses the littoral landscape of post-Brexit Kent.
• Slide Lecture, in which Carlos Kong chances upon European portrayals of the Global • South in a box of antique magic lantern slides.
• South is a bright, blocked Place, in which Nina Schack Kock has a religious experience when unable to find a monastery in Greece.
• South is the state of sacrifice, in which Imani Jacqueline Brown surveys the coastal wetlands of Louisiana, bearing witness to the consequences of extractivism.
• South x South, in which Ibrahim Ahmed makes bricks in Ard El Lewa, Cairo from fabric scraps originating in the textile mills of the Global South.
• Sundowners, in which Jeremy Atherton Lin reflects on late nights out — in South London, Margate and Bath — while finishing his book Gay Bar.
• The Land Question: Where the fuck am I supposed to have sex? (extract), in which Eimear Walshe gives an account of two nuns cohabiting in Cork while confronting the complexities of land contestation.
• This is Happening, in which Andrea Mason details her South East London neighbourhood over two years.
• Women Hold Up Half The Sky, in which Jasleen Kaur reimagines an archival image of Sikh soldiers performing a gymnastics routine in Waziristan.
• Plus our recurring Etymology feature, in which Bryony Quinn gets to the roots of the issue's theme.